Giới thiệu Máy tiện CNC Tsugami
Máy tiện CNC Tsugami B0128W/B0208W
Infinite pursuit of high productivity Drastically shortens cycle time.
●By simultaneous 3-path control on independent tool posts, diverse processing is possible.
●High value-added workpiece is also possible by the Y-axis on the back side.
●Zero tool change time by simultaneous 3-path control system
●Three tool posts equip Y axis.
Feature

Máy tiện CNC Tsugami BW127/BW128/BW128Z/BW129Z BW207/BW208/BW208Z/BW209Z
Drastically shortens the cycle time
●By simultaneous 3-path control system, diverse simultaneous processing is possible with independent controlled tool posts.
●Independent Z-axis movement on rear tool post realizes further simultaneous processing (BW128Z/BW129Z/BW208Z/BW209Z)
●Y axis on the back tool post enables the machining of value-added workpieces.  (BW128Z/BW129Z/BW208Z/BW209Z)
●Shortens the cycle time by simultaneous cross milling with front/rear tool posts.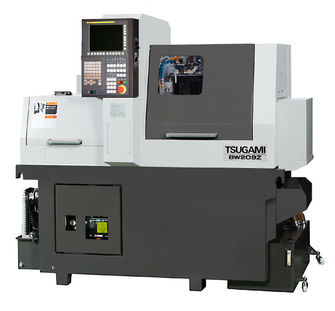 Feature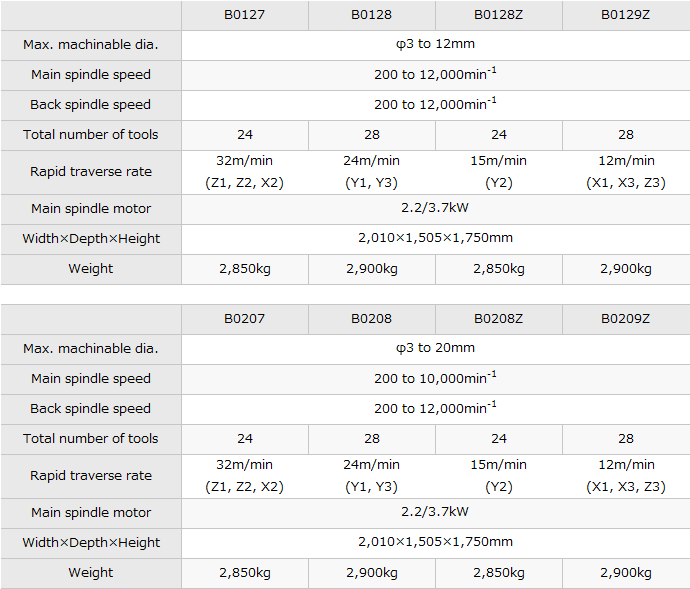 Máy tiện CNC Tsugami P013/P033/P014/P034
Optimum for mass production of fine precision parts
●High-speed and high-precision machining of parts with 0.05mm diameter or less
●High-speed main and back spindles: Maximum speed 25,000min-1 (P013/P014)
●The chucking-force adjustable chucks of main and back spindles can clamp fine precision parts softly.
●Equipping user friendly softwares for machining small-dia. and fine precision parts;Tool height compensation function, Spindle zero offset system.
●Space saving design, floor space 0.8m2
●Provided high-speed dedicated bar feeder
Applicable machine spindle speed: 25,000min-1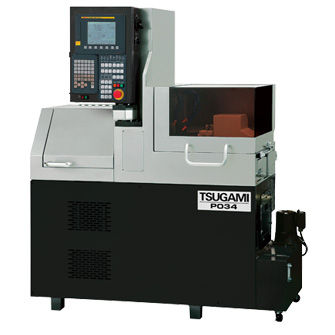 Feature

Máy tiện CNC Tsugami B073-Ⅲ/B074-Ⅲ/B075-Ⅲ
High-precision machining based on the theoretical design policy
● Optimum selection from 3 types, 3-axis or 4-axis or 5-axis type, according to a workpiece
● Realizing complex workpiece machining by the 2-spindle/3-spindle/4-spindle cross drill and the main spindle C-axis control (option)
● The built-in motor is equipped on the back spindle of 4-axis type and 5-axis machine.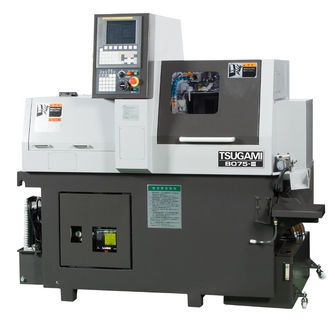 Feature